Welcome to the latest update of the Optii Platform! This update is full of performance enhancements for our current features, bug fixes, and all-around improvements to make Optii an even more productive tool in your daily life and operation. If you have any questions after reading these notes -- please do not hesitate to reach out to us via Livechat or a quick email!
This release brings major changes to the 'Floor Plan' and introduces the 'Job Items' set up within the settings tab of Optii. Admins and Managers with configuration rights will be able to manage these areas with added ease and options. Let's take a look!
---
Filters have been added to the 'Floor Plan' settings to add ease in viewing, managing, and editing your locations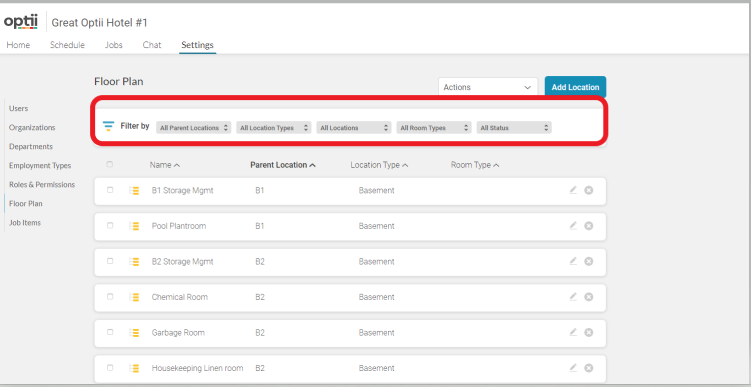 Filtering within the 'Floor Plan' will be visible to anyone with admin/settings rights. The selected filter will affect the display of locations. You are able to multi-select objects within each filter -- selecting more than one object will act as an "or" search. Selecting objects within more than one filter will result in an "and" search. For example, selecting "B1" as the 'Parent Location' and "Basement" as a 'Location Type' will display only the locations meeting both of these criteria.
---
You can now multi-select locations to move them to a new parent location
You can now use checkboxes located next to each location label to multi-select locations and move them to a new parent location. For example, you accidentally associated 20 guest rooms to the 1st Floor rather than the 10th Floor. You can simply check the boxes next to those room numbers and bulk move to the correct floor.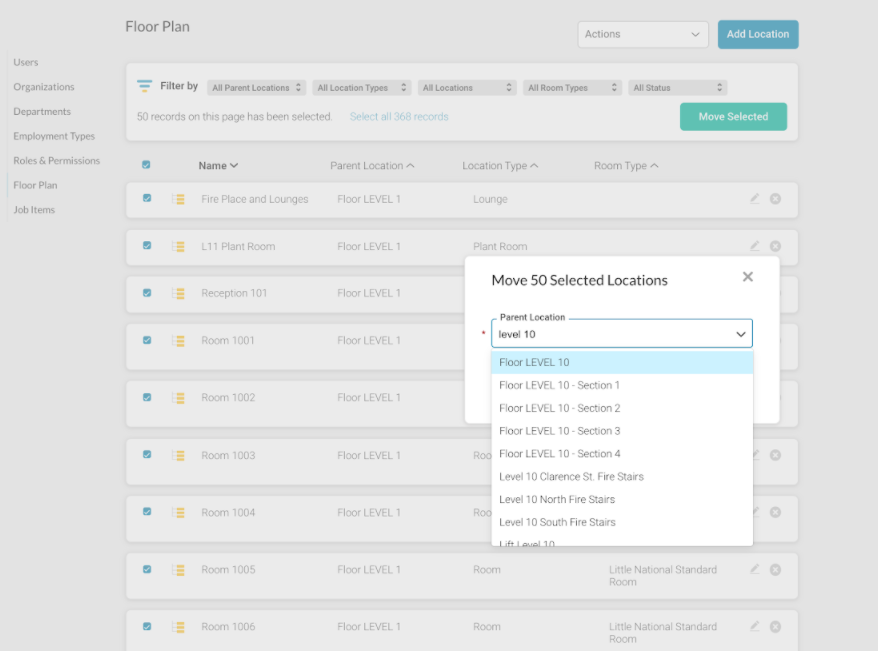 Select, Yes, Move to confirm!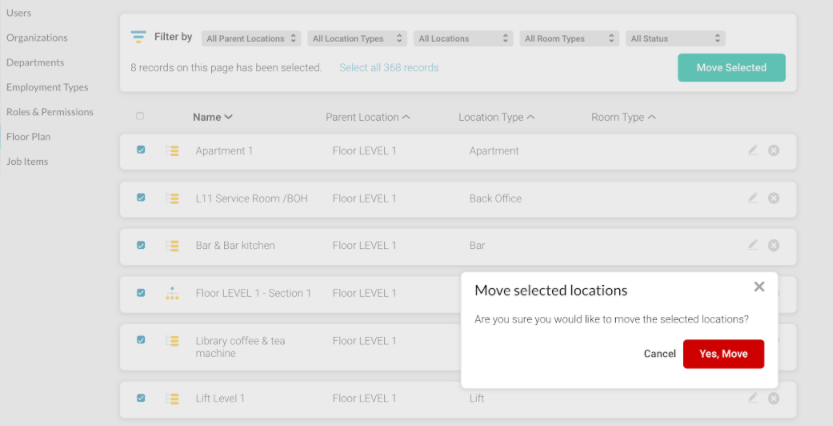 Note: We have also added some safeguards to prevent you from duplicating locations or overriding parent locations.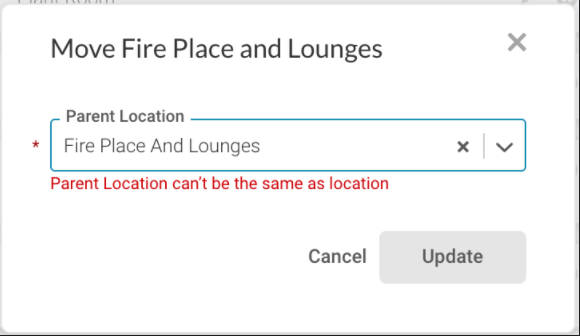 ---
You can now add 'Job Items' and associate job items with specifc Job Actions, Departments, and Roles to trigger Jobs to be assigned to the correct Team Member via Auto Assign in the 'Jobs' tab
Complete the 'Add Job Item' form to create additional tasks for your Team Members. Once you have added the 'Item Name' and Department and Role information, select 'Add Job Request Type' and Save.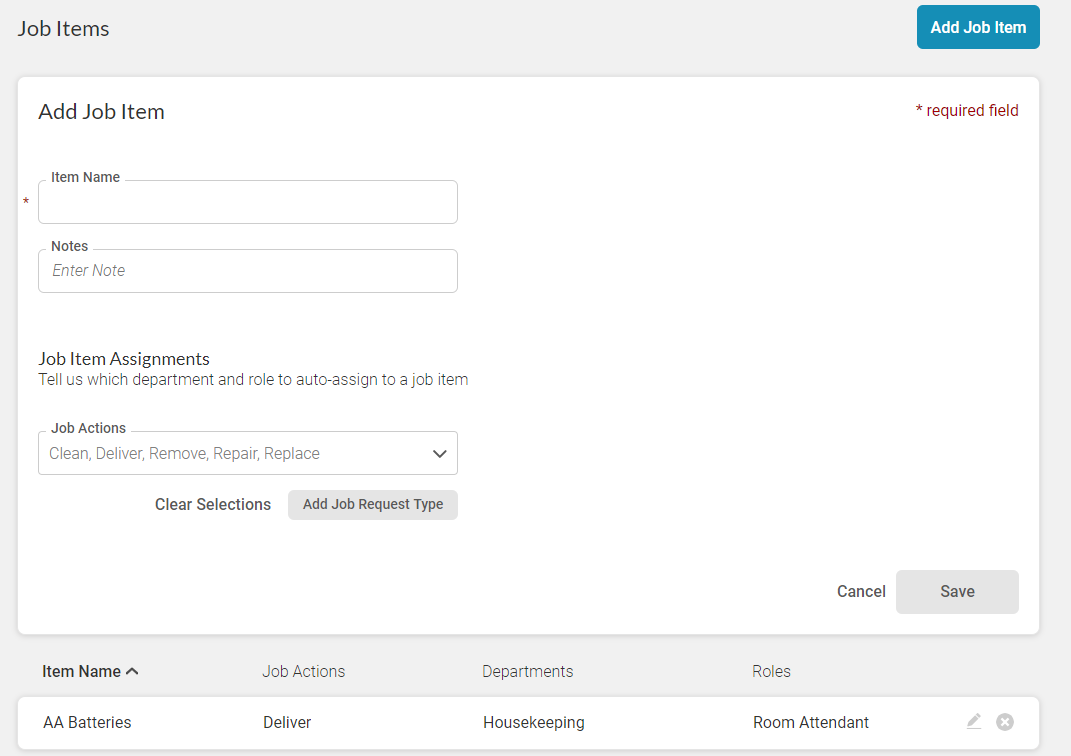 Once the job item is added, it should appear on the items drop down when adding or editing a job. Upon selection of the item, the departments and roles should automatically populate.

Various Bug Fixes and Enhancements
Improvements made to the performance of the Schedule for large teams when publishing and copying the schedule. If it takes too long, you will receive a pop up indicating that the schedule is still loading.
On the Floor Plan, if a room type that already exists is created, you will not be able to save the new location and receive an error, "room type already exists."
Also on the Floor Plan main view, the count of the number of locations will be displayed, as well as to select to load more to expand the list and view more locations.
The default parent location is now the property name, this will be included in an initial dropdown so that a new property configuration does not need to start with a total import of locations.
Property is set as the parent location and cannot be edited or changed.
On the Employment Type settings, decimal values for regular and overtime rules are now supported -- created to adhere to Australian labor laws.
Long property names should display on the top header navigation.
On the Job Status page, when a job is completed or canceled, the done column counts update.
When viewing Job notes, longer, multi-line notes are now able to be added and viewed on Android devices.
The calendar within the schedule now highlights the correct day of the week that coincides with the start of the week.
Improvements have been made to the auto-assignment logic when balancing workloads.
On Jobs, the attachments can be viewed clearly on smaller device screens.
In Chat mobile view, the badge count now displays for all Team Members.
---
What do I need to do now?
No need to take any action, we'll upgrade Optii for you! Feel free to contact us should you have any questions or anything to share!
Version 3.0.6 - October 11, 2020