Welcome to the latest update of the Optii Platform! This update is full of performance enhancements for our current features, bug fixes and all-around improvements to make Optii an even more productive tool in your daily life and operation. If you have any questions after reading these notes -- please do not hesitate to reach out to us via Livechat or a quick email!
Here are some highlights of what to look for this month:
1. You can now depend on Desktop and Android Push Notifications for Job Assignment alerts!
2. Auto assignment of jobs is here!
3. Scheduling your Team Members can now be done in 15-minute increments
4. Use the Floor Plan within Settings to Add or Modify Locations
5. Fixes to the Schedule Module
6. New Icon to indicate a job has a photo or file attached
7. Various bug fixes and system performance enhancements
Let's take a more in-depth look at these new features:
---

You can now depend on Desktop and Android Push Notifications for Job Assignment alerts!
Push notifications are now live and available to your users when assigning jobs on the Desktop as well as via Android devices. Optii is here to let you know exactly what jobs need to be done in real-time!
---
Auto Assignment of Jobs is Here!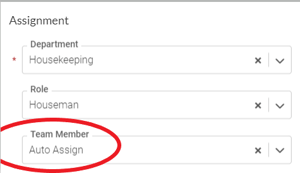 When a job is created for a specific Department and Role, and 'Auto Assign' is left as the default Team Member field, Optii will use the published 'Schedule' to assign the job to the correct Team Member. Jobs will be assigned to allow for a balanced workload in a "round-robin" fashion as long as the department, role, and due time match. If there is only one Team Member scheduled who meets the criteria for the job, all jobs will be assigned to that individual. Jobs will only be 'Auto Assigned' during a Team Member's scheduled hours.
Note: If you have an existing schedule, you will need to create a new schedule from scratch before auto-assignments will work. Please do not copy that existing schedule. After a new schedule is created, you will be able to copy and auto-assign jobs moving forward.
---
New Icon to indicate a job has a photo or file attached
You will now notice an icon on your jobs whenever a job card includes a file or photo attachment.
---
Scheduling your Team Members can now be done using 15-minute time increments
We have added 15-minute time period increments to the drop-down menu within the 'Schedule' module. This allows you to schedule your Team Members with greater precision and avoid any potential overtime.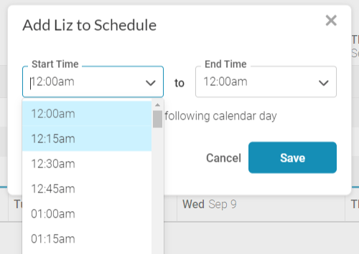 ---
Use the 'Floor Plan' within Settings to Add or Modify Locations
Administrators are now able to view the 'Floor Plan' within the 'Settings' tab and modify their location information.

Use this area to add new location information by clicking on the blue 'Add Location' button and completing the form. You are now able to add, edit, and delete all room and location types. Soon, you will be able to search and filter the Floor Plan as well as move multiple locations to a different parent location.
Note: Adding a location in this manner should be used as an ad hoc action. The initial configuration of the property's full location list will be done via the import of a google sheet template.
---
Fixes to the 'Schedule' Module
1. 'Schedule' print feature now defaults to landscape layout for ease of viewing.
2. Your schedule can now manage larger teams (previously restricted to 40 Team Members).
3. If you select one Team Member to edit, click on the plus sign. If you need to edit multiple Team Members, you should select from the dropdown menu that appears. If you are having problems with the multi-selection of schedule entries, we advise you to clear your browser cache- How to clear your cache on any browser.
4. Bug resolved that was causing specific users difficulty in adding shifts in the 'Schedule'.
---

Various Bug Fixes and Enhancements
1. You are no longer able to save a blank note, therefore eliminating an empty note to be displayed.
2. You will now receive confirmation that a job was canceled, after canceling a job.
3. Automatic job updates logic has been enhanced!
---
What do I need to do now?
No need to take any action, we'll upgrade Optii for you! Feel free to contact us should you have any questions or anything to share!
Version 3.0.5 - September 14, 2020