Introducing the On Shift Indicator to let managers know which team members are currently working
To help with labor management and transparency, Optii now offers the ability to require Team Members, based on role, to mark themselves as On or Off Shift. In the future, this will be used to indicate availability for job assignments, notifications, and report analytics.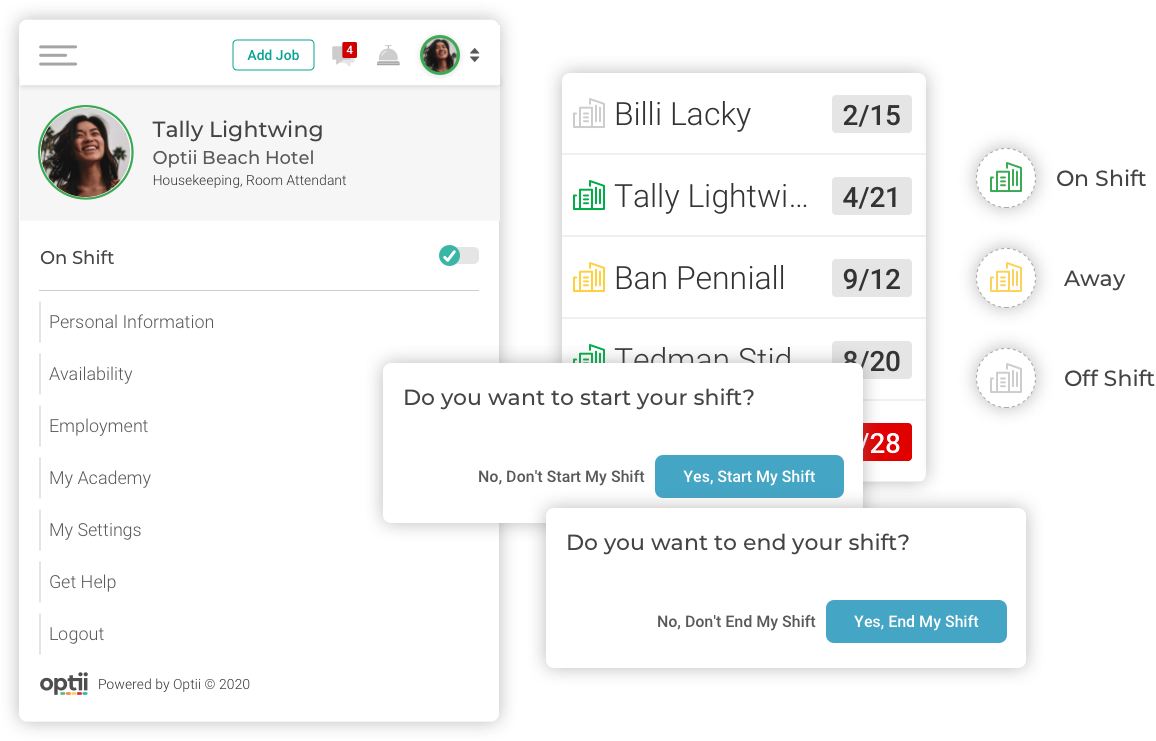 As a team member, the On Shift indicator feature allows you to:
Access the On Shift indicator driven by role-based permissions
Mark yourself on/off shift for better transparency on who is currently working
Remind you to update your status on login and logout
Easily see your own personal On Shift status with a green or grey circle around the user profile icon
As a Manager, the Team Member status indicator on the Jobs Timeline view allows you to:
At a glance, see who is On Shift, Away, Off Shift, and who doesn't have permission to the On Shift indicator
Filter the listing of team members by 'All On Shift.' This filter will limit the Jobs Timeline listing of team members by who is on shift or who is away but still on shift
Note: If your teams would like access to the On Shift Indicator feature, please contact your CSM or our support team to turn this on by role.
Bug Fixes and Minor Enhancements
Addressed Job Status performance issues allowing support of hundreds more concurrent users and jobs
On the Job Activity Report KPI section, the seconds no longer show up for better readability
Fixed a bug on the reports causing the labor cost to be incorrect in certain scenarios
Fixed IOS bug preventing users with older iPhones and iPads from scrolling through the Job Status page
Fixed a permissions bug that prevented the display of the job escalations list in certain scenarios
Fixed a bug in the Department Settings module that displayed the wrong message when deleting a department
Fixed a bug in the Department and Employment Type Settings module to check for duplicates based on case sensitivity
Fixed a bug that caused updated items on existing jobs not to display correctly
Fixed a bug that caused an error when a high number of users were deactivated at the same time


If you would like access to the Departments and Employment Type modules within Settings, please contact your CSM or our support team.