This update includes many new features as requested by Optii users!
We always appreciate our clients' feedback and use it to guide our future development. Thank you to those of you who shared the suggestions that have become a part of this release. Please keep sharing your suggestions and ideas!
View Job Status When Adding a New Job

When your operation requires immediate action for a guest or an urgent issue, you may need to act before a job can be entered into Optii. With this new feature, you are now able to change the starting status of a job during the creation process. For jobs entered directly into Done, the Response time will be 0 minutes.
.
Filter Jobs by Overdue or Project Jobs
On the Job Status Page, we have made it super easy to filter the list of jobs by jobs that are overdue or project jobs. All you have to do is toggle the respective filter on/off.
Team Member Schedule: Now Defaults to Published
Now when viewing a Team Member Schedule that has been published, it will automatically default to the 'Published' view instead of the 'Draft' view.
Preventative Maintenance Enhancements

Since our launch last month, we've also been busy improving our Preventative Maintenance product. We have made the following improvements:
Projects: Does Not Repeat Option:
You may want to add a project with a job like 'Install Refrigerators' across all your rooms, but only perform it once. For these times, you now have the Does Not Repeat option, which will only generate one project cycle. When selecting this option, you must add an end date to your project.


Project Cycle: View Queued Job Details Side Panel:
When reviewing Project Cycle queued Jobs, you can now click on the job and see the job details for easier reference.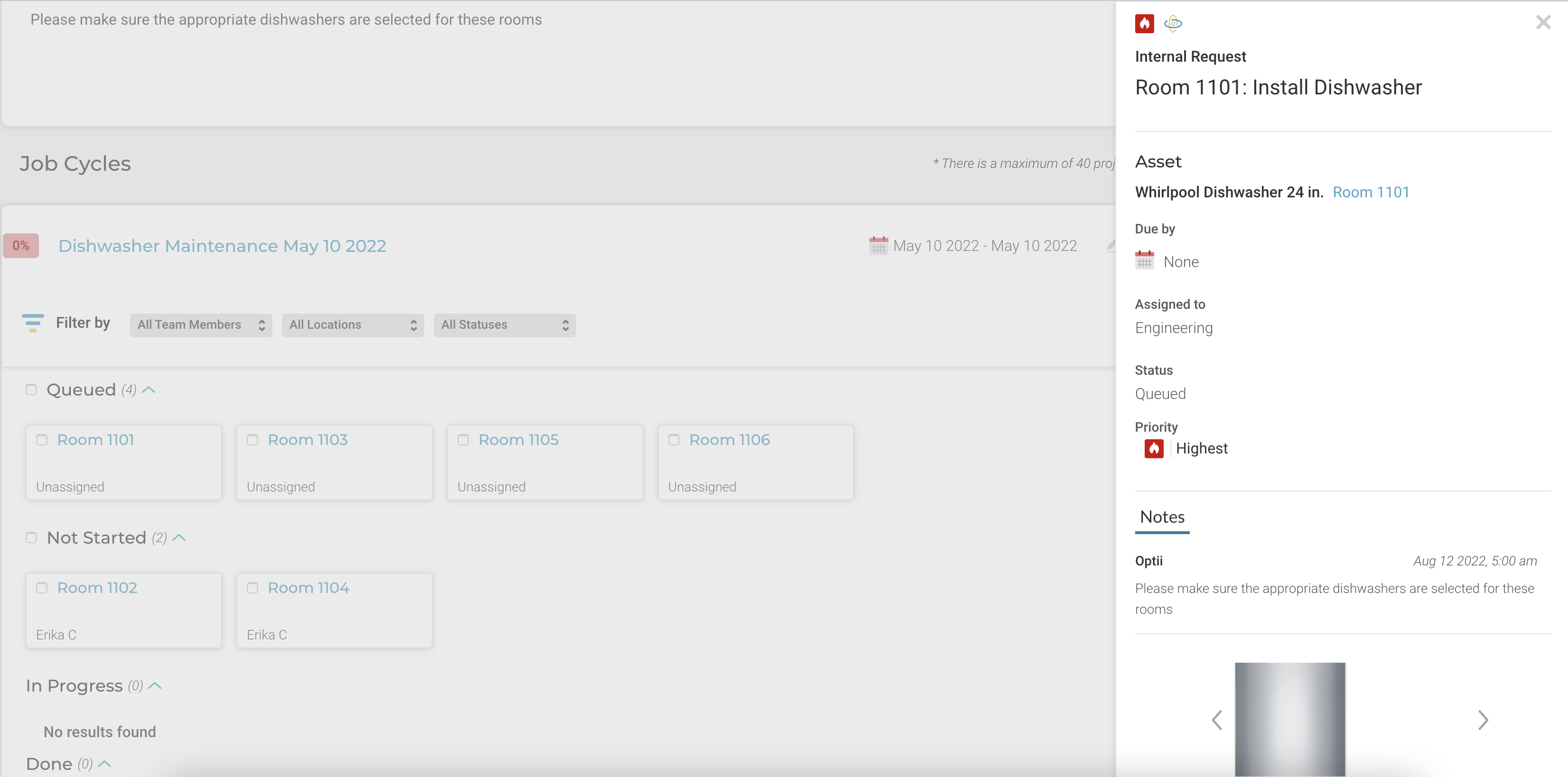 Project Cycle: Edit Start/End Dates For better planning, you can now edit future project cycle start and end dates. We also resolved an issue around the start/end date calculations.

Project Job Details: When adding/editing a project, you can now keep the Due By Time blank when the project job is not time sensitive.


Do you have an excellent idea for our products? Want to learn more, or are you ready to upgrade to get access to our latest mod le? Contact your success manager today!
---
Other Enhancements and Bug Fixes
Settings: Job Items: Optii will prevent you from accidentally deleting a job item that is associated with an asset type by showing a warning message e.g. 'You must disassociate an asset type before deleting AC Filters'
Settings: Floor Plan: Since it takes time and effort to set up your assets, Optii added a safeguard to prevent you from losing your assets by disabling the ability to re-import your locations or delete a location that is associated with an asset.
Job Performance: We continue to make the performance of Jobs faster and more reliable.
Some exciting features are coming soon, so stay tuned:
Hierarchical Views of Locations
Associating Projects with Job Items when Assets are not needed
Enhanced filtering
Checklists
PM Dashboards
Repeating Jobs
Would you like to participate in our Preventative Maintenance Checklist Usability Test Sessions?
If you have experience using Checklists either through Excel, Google Sheets, or another system, we would love to hear from you. You'll also get an early peak at our designs and tell us what you like and don't like. Please reach out to our Customer Success team, and we will schedule a 45-minute feedback session with you and your team.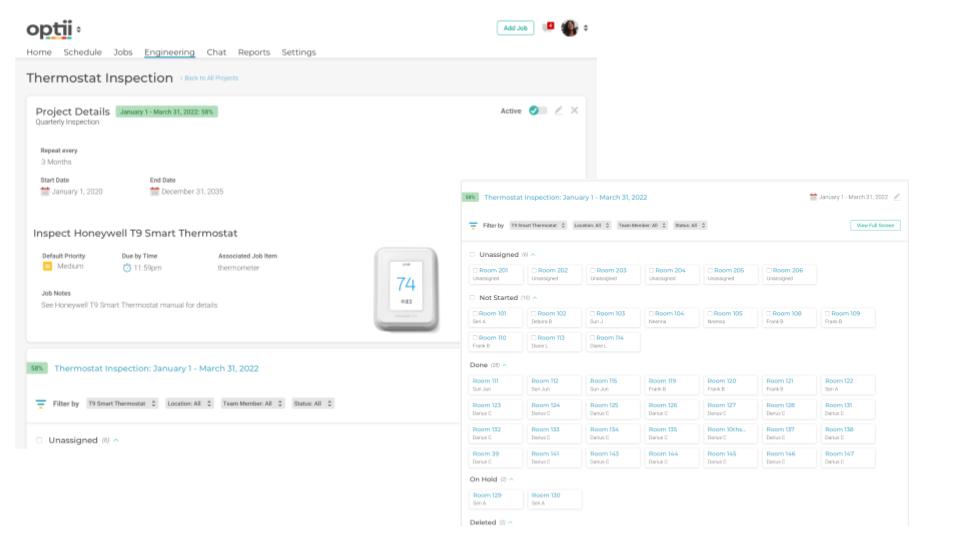 Please reach out to our Customer Success team, and we will schedule a 45-minute feedback session with you and your team.