Tere! Hallo! Ciao! Are your team members more comfortable with Estonian, German, or Italian?
Not a problem! Just have them update their language profile accordingly. The labels and system messages in Optii will now be translated into these selected languages.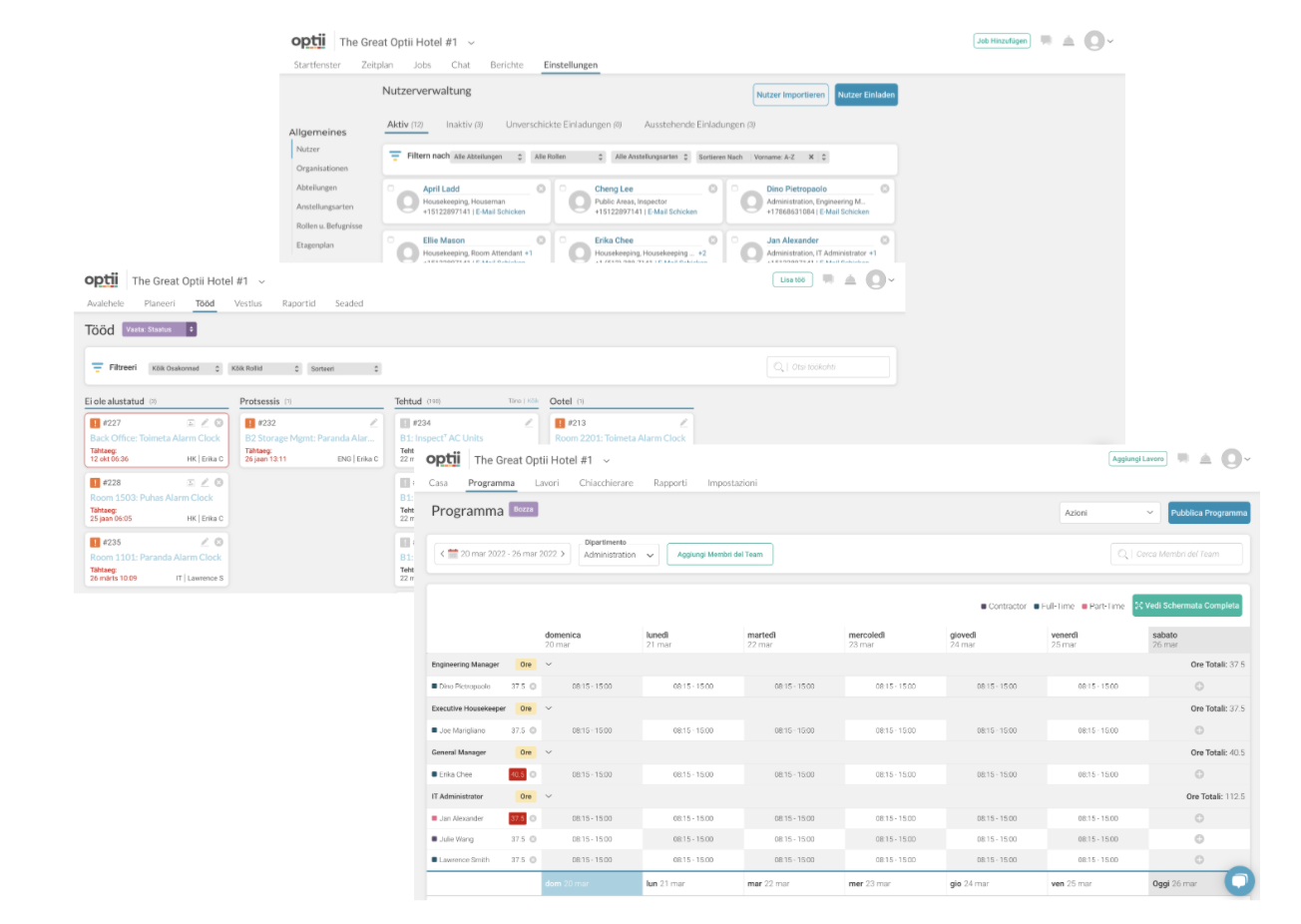 As promised, we will keep adding more and more languages to Optii Service & Chat. In the coming months, we will release Haitian Creole, Greek, Chinese, Tagalog, Japanese, English UK, and Castilian Spanish.
Other Enhancements and Bug Fixes
The job listing on the Job Status Page has been improved to more easily see the content on the job cards.

Before: After:

.

On the Jobs Timeline view, when dragging jobs to users with 'In Progress' jobs was causing an assignment misalignment. You should no longer experience this issue.
On mobile devices, the 'X' to close the add/edit job screens is bigger, so you should be able to more easily exit from these screens.
Chat on iOS devices, the auto zoom feature is no longer automatically triggered. You should no longer have problems sending direct messages. The auto-zoom feature for iOS devices is no longer automatically triggered when in Optii Chat. You should no longer have problems sending direct messages.
The User Management pages are now loading faster!
After this release, invitations to previously deactivated users from other properties will be sent more easily.
You should see the addition and improvements to our multilingual label support across the app on desktop and mobile devices.
---
Would you like to participate in our Preventative Maintenance Reports User Feedback Sessions?

We are getting closer and closer to releasing Preventative Maintenance! Especially if you have strong opinions on what reports you want to see for Preventative Maintenance, please reach out to our CSM team, and we will schedule a 45-minute feedback session with you and your team.
---
What if I have Questions about all of this?
Your Optii Success Manager is awaiting your call - ask as many questions as you can!
Call on:
Canada and United States: +1 512 793 7705
United Kingdom and Europe: +44 20 3037 8851
Australia and New Zealand: +61 7 5292 5166
Asia: +852 3956 0630
If you prefer to email, reach us at help@optii.com.