Jobs Timeline updates that allow you to view in full screen and multi-card drag-and-drop so you can get more done faster.
Jobs Timeline View
Timeline View Multi-Card Drag and Drop
Move and assign jobs more efficiently with the ability to drag and drop multiple cards from Unassigned to Not Started and Not Started to Unassign. You can also use the CTRL key on PC or Command key on Mac to select multiple non-adjacent job cards.

View Jobs Timeline View in Fullscreen
Expand the Timeline's working area to increase visibility.
Introduction of Jobs Dropdown Menu
Navigate between Job Status and Timeline views with a dropdown menu.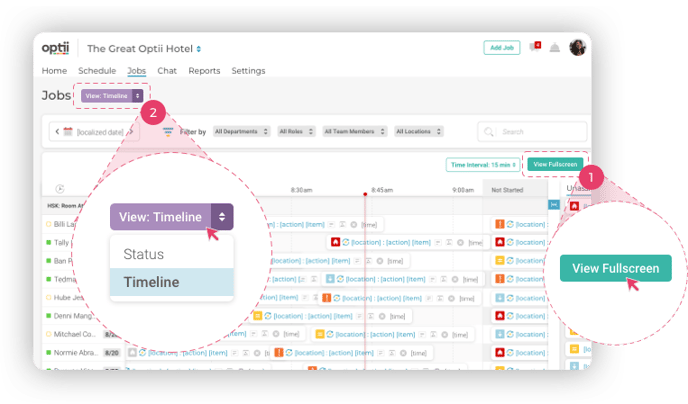 Enhanced filtering of department and roles
The department and role filters will now only filter the team members associated with the selected departments and or roles. You will still be able to see all the jobs assigned to that team member regardless of the job department and role association.
Job Card Assignment Restrictions While In Progress
Enforce best practices and increase protection of reporting data by only allowing changes to Team Member assignment when a job's status is Not Started, Completed, On Hold, or Canceled. In other words, if a Job is In Progress, you will no longer be able to change the team member assignment.
Bug Fixes
Fixed a bug with notifications not displaying if the user is logged into Optii but not in the Chat or Jobs screens.
Fixed a bug that caused an error when attempting to send user invites.
Fixed a bug that caused duplication of department/role records which impacted drag-and-drop functionality in Jobs.
Fixed a bug on location and room types that prevented users from editing/deleting the last record.