Welcome to the latest update of the Optii Platform! This update is full of performance enhancements for our current features, bug fixes, and all-around improvements to make Optii an even more productive tool in your daily life and operation. If you have any questions after reading these notes -- please do not hesitate to reach out to us via Livechat or a quick email!
Optii for IOS is Here! We are live in the App Store!
Calling all Apple Users! Optii can be found in the App store under 'Optii'. We have also enabled push notifications for IOS users in Jobs and Chat -- now both Android and Apple users will be notified and kept up to date with the latest happenings and conversations!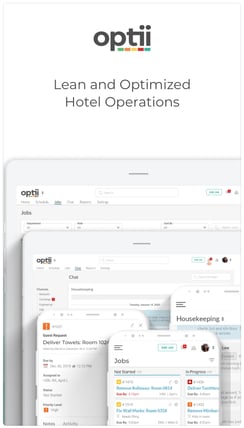 Various Bug Fixes and Enhancements
We have added an option to our Settings > Roles & Permissions to allow for Optii Managers to select whether or not a specific role should be allowed to 'Auto-Assign' jobs that they create. This will allow Managers and Supervisors to have additional control over job assignments, should they wish to enable this restriction for their Team Members.




After an import of locations, all items in the form will now clear and update properly.
When you load more jobs from the 'Jobs' page, the actual pagination will reflect and you will be taken to the top of the next page as you search jobs. This will save you time and reduce scrolling.
You are now able to add a job using a newly created job item immediately after creation.
When you create a new job, the form from the previously created job will clear properly - including the department and role entry.
User terms now display clearly on the Samsung Galaxy s5 device, the username and other text no longer overlap.


What do I need to do now?
No need to take any action, we'll upgrade Optii for you! Feel free to contact us should you have any questions or anything to share!
Version 3.0.7 - November, 2020