Here is what's new for you in the latest version of Optii Platform:
---
Have Team Members that speak Portuguese or Punjabi?
Great! As part of our ongoing efforts to bring more languages to Optii, Portuguese and Punjabi are now available! Users who select these options will see all system labels in their language of choice. Users may update their language in their profile at any time.
---
Preventative Maintenance Enhancements


Thanks again to all that continue to provide feedback on our new Preventative Maintenance module. You now will be able to:
Delete a Project - If you accidentally added a project you didn't intend to use, you can now easily delete it as long as no job assignments have been done to any of the project cycles.
View Asset Types on Project Cycle Job Cards - If you select multiple asset types when adding/editing a project, you will now see the Asset Types on the project cycle job cards to make it easy to distinguish these job cards.
View Asset Notes - Similarly, you can now view the asset notes when selecting the asset on the Job Details section of adding/editing a project. You will also see the asset note on the project cycle job card. This will make it easier to differentiate the job cards when multiple assets are in the same location.
---
Announcing our New Cloud-Based Sigma Reporting Beta Solution
We are so excited to turn on our new beta reporting solution to some users this month. We have partnered with Sigma Computing, a fully cloud-based BI solution that offers a more robust, flexible, and modern solution for all our analytic needs. With this change. you will soon see a new and improved version of the existing reports. Once the beta period is over, we will turn on the new reporting solution to all our customers. Here are the main benefits you'll experience with this new version of reports:
Faster report load times!
Mobile access to all reports for both iOS and Android
Download data as CSV, Excel, or PNG (if it's a graph). For any report widget, you now have these download options to make it easier to analyze the results.
Much more flexible date control filters. In addition to being able to select fixed and relative date ranges, you'll quickly be able to select the last seven days, one month, quarter, etc. You'll also be able to see "Current" filtering options such as by the hour, day, week-to-date, month-to-date, and remaining week. Especially for reports aficionados, you'll have much more granularity in filtering the report data!
More informative filtering options - You can easily see a count of how many records there are by each filter option without even having to select a filter. See the image below.
View Column Details - When you click on a column header in the Reporting Records section, you will now see additional column details about the data in that column, including a count of top values and distinct values count.
On the Job Activity Report the Top Jobs graph has been converted to a bar chart so that you can more easily see which jobs have the highest frequency along with their corresponding average response times.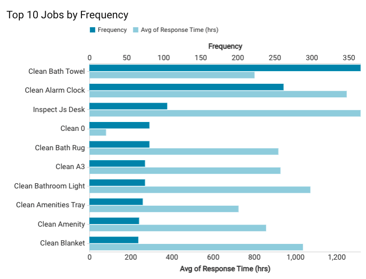 Please note that we have temporarily removed the ability to click on a job record to bring up the Job Detail modal.
---
Other Small Improvements and Bug Fixes:
In the Job detail notes section, there were a couple of scenarios where the note reporter was displayed as 'Unknown.' You should no longer see the 'Unknown' label in any scenarios.
On Android tablets, you should no longer see project job alignment issues.
On a more technical note, we continue to improve the overall performance of our products... We have also improved our .net services and upgraded our Go language to v. 1.18, which includes the latest security updates.
---
What if I have Questions about all of this?
Your Optii Success Manager is awaiting your call - ask as many questions as possible!
Call on:
+1 855 398 1447 if you are located in North America, or
+852 3956 0630 if you are located in Asia, or
+44 20 3037 8851 if you are located in Europe, or
+61 7 5292 5166 from Australia/New Zealand.
If you prefer to email, reach us at help@optiisolutions.com.