This document explains how to read the 'Task List', (List that the Inspector will check rooms from), it appears after the roster and auto assignment has been completed for room attendants, inspectors and Supervisors.
Select the 'Task List' from the left side menu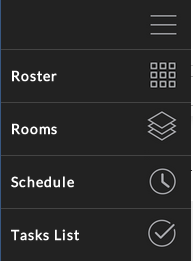 This will display the name of the Inspector and the Inspection tasks that are scheduled. The rooms that are highlighted on this schedule means that the rooms have already been cleaned and waiting for the inspection to be completed.
Inspection tasks that are at the bottom of the schedule and are greyed out means the room has not been cleaned yet and this a forecasted inspection.
Coloured tasks:

Once a Inspection has been completed the room will then move to above the current time (green line) and these rooms will than appear in shaded colour. To verify the room status you can select the room number and see current status.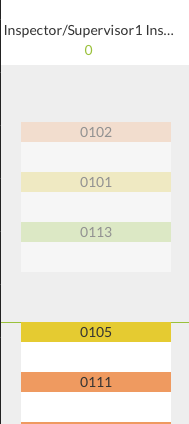 The Progress Indicator (Number) under the Inspectors name represents the average time the Inspector takes to inspect the room after the room has been cleaned.

Example Below:
Inspector: Brenda Cooke
Average Time:0
Stayover Inspections:0
Departure Inspections:5
Checks:0
Inspector: Chris Eales
Average Time:43 Minutes
Stayover Inspections:2
Departure Inspections:3
Checks:4
This document contains proprietary and confidential information of OPTii Solutions, and is not to be used, copied, or disclosed without written permission. All rights reserved.