Introducing Escalations to stay on top of the day's most important tasks by alerting you when jobs are at risk of being delayed.
Escalations allow you to:
Be notified of job escalations from any desktop, IOS, or Android mobile device using the Chrome browser.
See escalated jobs at a glance with the Status and Timeline views
Access and manage all of your escalation rules in a sortable and searchable list
Configure notifications up to 72 hours before or after due time
Permissions based for limited access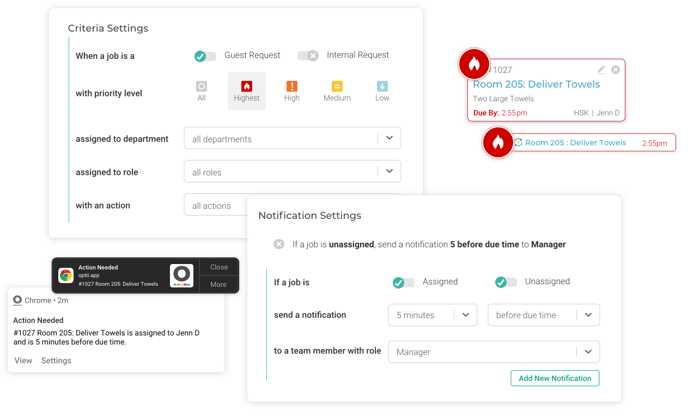 If you would like additional details on Escalations, check out our Learning Center article.
Reports: A New Team Member Activity Report!

This report will easily allow you to see who your top performers are along with key performance indicators for each team member including their average response times, average duration times, average wait times, on hold percentage, and the average cost per job.
The Top Performing Team Members graph will easily point out your top 20 performers based on the number of completed jobs and the duration of how long it takes to complete the jobs.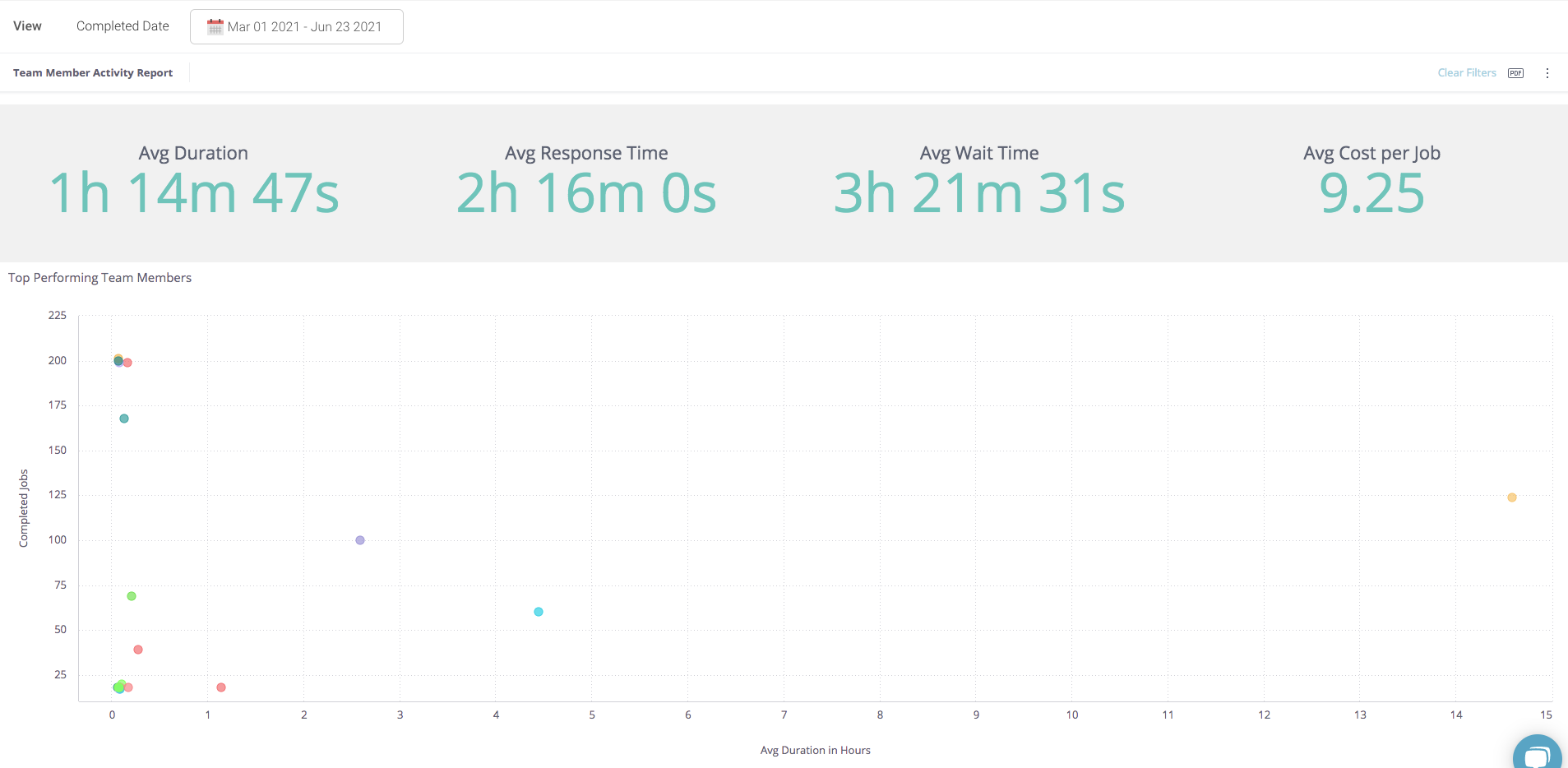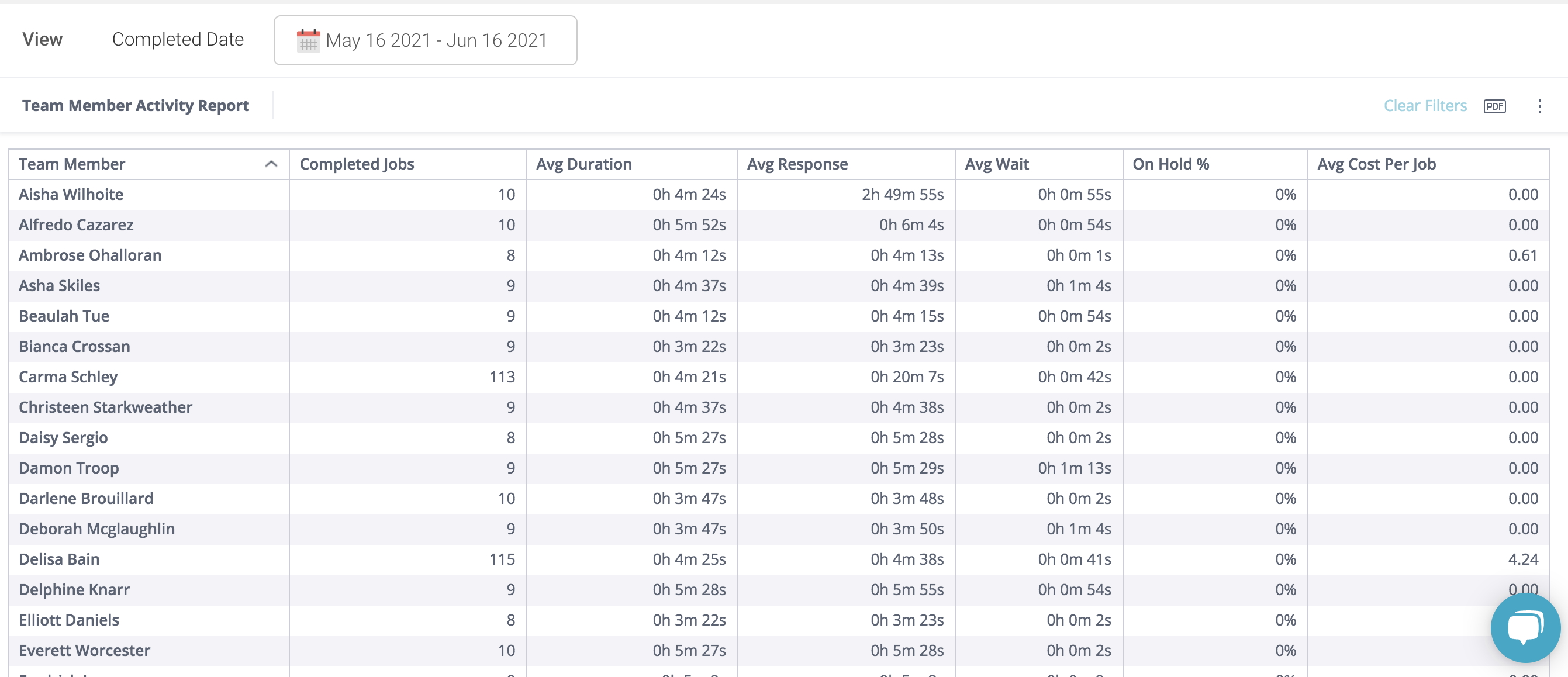 Jobs
Improved multi-card drag and drop on the Timeline view. Now, to deselect multiple Timeline job cards, just click anywhere outside of the selected cards and the job cards will no longer be selected.
Preserve job data integrity by not allowing a completed job to be marked as unassigned
Design improvement to the Timeline Job Cards to highlight the most pertinent information
Updates to the Jobs by Status screen to only display jobs for the current day
Settings
Introducing the ability to give team members permission to add Job Items when adding/editing a job
You no longer can see Optii Administrators in the roles and team member drop-downs for Users, Jobs, and Schedules. Soon, you won't see Optii Administrator listings in User Invites, Chat, Job Items and Reports.
On Floor Plan, we added minor location type enhancements


Bugs
Fixed a bug causing location imports to display the error page
Fixed a bug that replicated default roles with the inability to delete
Fixed a bug that required page refresh before viewing a newly created property
Fixed a bug that caused the Job Activity to prevent displaying the assigned user when assigning jobs during the creation process
Fixed bugs in the Jobs Timeline View that caused unexpected behaviors while deselecting, selecting, and dragging multiple cards
Fixed bugs that caused Job cards to display incorrectly
Fixed bugs that caused incorrect schedule entries during daylight saving time
Fixed bugs that prevented snackbar confirmation from displaying correctly
Fixed bugs causing errors in user invites
Optii Service & Chat V3.0.13, June 2021