Learn how easy it is to set a new Working Arrangements in Optii.
When creating a new working arrangement in Optii it is important to ensure they match the work hours requirement for each role and the staff working in your property.
Creating a new Working Arrangments
To create a new working arrangement simply click on the menu bar the three horizontal lines on the top left-hand side of your screen, and expand the black column to show us the headings.
Click on 'Configuration' and then select 'Working Arrangement'. Then click on 'Add New Working Arrangement' located on the top right-hand side of your screen.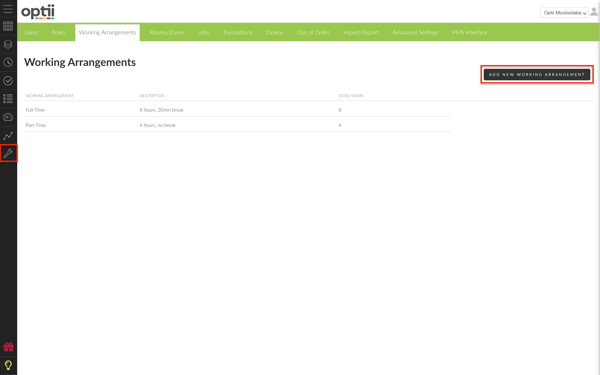 What to select?
Enter the working arrangement details as follow:
The name of the employment type, i.e. Permanent Part-time
The number of hours required per day
Enter a brief description of the employment type, for example:

Works, on average, less than 38 hours per week
Usually works regular hours each week
Permanent employee

Add a break, and select the name of the break, duration and schedule the break after the hours working on the day. For example Name: Lunch break, Duration: 30 minutes, Schedule After (hrs): 4
Note: provide any description that adapts to your contract requirements at your property.
Save the changes
Once you have entered all the information go ahead and click on 'Save', and immediately the new working arrangments will be created.