Acceptable turnaround times are an age-old problem that continues to bother hotels operations. Learn how Optii can help achieve your Turnaround Time targets!
In its most basic form, this is the time it takes for a room to progress from a dirty status to either a clean or inspected status. Each relevant department within a hotel property has a different expectation on what this time should be; however, the universally accepted metric seems to be "as fast as possible".
Suppose you're struggling with consistency, unable to meet aggressive targets, or want to make some incremental gains in improving your Turnaround Time. What can you do to push the process along without incurring undue increases in labour cost or sacrificing your Team's happiness, health, and safety?
We hope our 3 Tips Help Achieve Your Turnaround Strategy!
Let's get started.
---
Tip 1 Promote your best Room Attendants to Self-Checker
Because they are proven to clean at a consistently high-quality level, there is a lesser need to have an Inspector check their work at the same frequency as their teammates would. As such, once a Self-Checker completes the scheduled cleaning tasks on a room, it is immediately released back to Front Office or Reservations and ready for the next guest.
Optii will help you control the frequency at which Self Checker rooms receive inspections at the clean type level.
Create a User Role named Self Checker.
Set the Inspection Interval for both Stayover and Departure Tasks to a number below that of your regular Room Attendant.
Alter the Role setting in User Details for each Room Attendant who will carry this designation.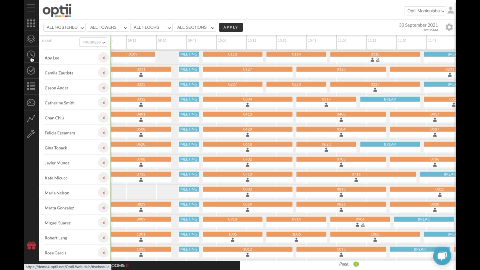 Bonus Tip: Want to know who cleans fastest, who adheres to your quality standards most often, or even a combination of the two? The Room Attendant Benchmark Report contains all the data you need to assess the performance of each of your team members. Pay special attention to the Quality variable; This percentage should guide your decision on who gets promoted.
Tip 2 Increase Quality by coaching and "Managing Up"
Take a look at the overall performance of your team. Like all properties, you'll have several Room Attendants who already clean at a high-quality level. At the other end of the scale, some team members are not cleaning to the expected quality level. They may be new to your property, or perhaps their standards have just slipped a little over time; It happens!
Identify the areas or items within a room that they are struggling to clean to standard and retrain them on your expectations. Most Room Attendants respond well to the time and attention you're providing in helping them work to the level of their more experienced colleagues.
Once you've ascertained who has the lowest quality scores from the Optii Room Attendant Benchmark Report, plug those names into the Training Needs Analysis Report (you can do this individually or collectively). The Top 5 Training Areas section will display which inspection items the Room Attendant has scored lowest on across your reporting period.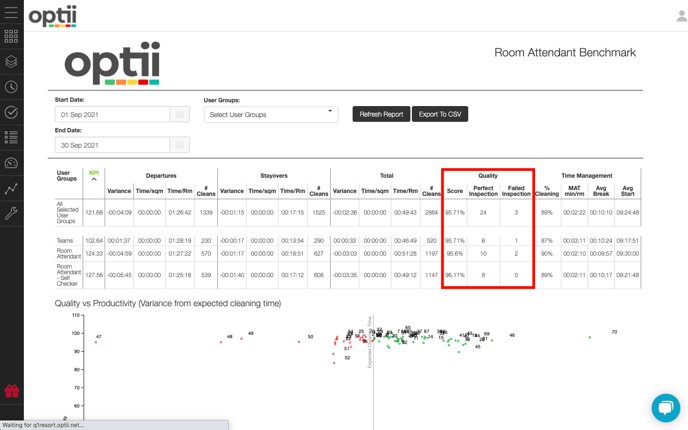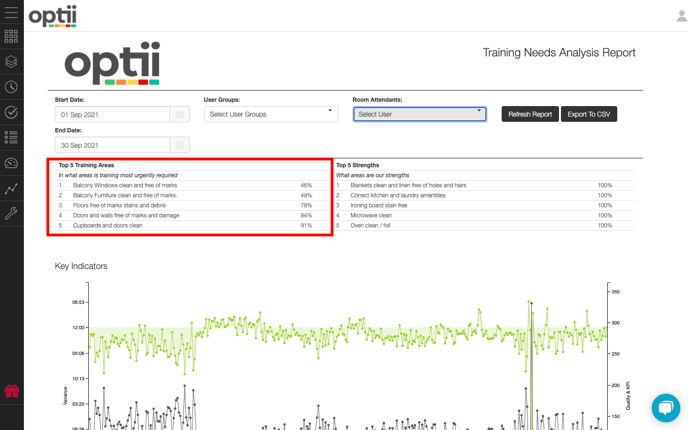 Tip 3 Understand your properties workflow
There is little use in scheduling your entire team to start their day at 7 AM if there's not much to do beyond restocking trollies or pantries. There's unlikely to be more than a handful of rooms to clean on a typical day, let alone anything to inspect. Likewise, if it's midweek and there are few departures but plenty of stayovers, guests are unlikely to want their stayover service early in the day.
Consider staggering your workforce based upon the anticipated cleaning activity of the day. For instance, schedule a few Room Attendants to kick off early to handle any early departures or requests for stayover service; This addresses the early cleaning requirements. Whilst you are there, roster one or two inspectors to oversee what's happening on the floors and get some rooms back to the desk early on. They can also handle any room occupancy checks leftover from the previous evening.
By the time your late starters come in, they'll have full boards that they can get to work on without delay. Of course, if you have an early group check-out and a soft arrival day, then go the other way. Bring your team in early to get on top of the workload and promise them an early afternoon finish!
Bonus Tip: The Optii Room Attendant Benchmark Report contains a handy stat for each of your Room Attendants. You can monitor the Average Start Time daily or over a selected date range. This number is an excellent indicator of whether or not you have your scheduling right!